America has the largest debt burden in the entire world. More than any other country, it owes trillions of dollars to foreign governments.
Similarly to Japan, our debt has increased greatly over the last few decades, and has lead to a host of socioeconomic problems including debt, wealth disparity, and health issues.
Even though the country is in a huge amount of debt as a whole, our per capita debt, particularly with credit card debt included, is rising drastically.
This has a huge number of personal consequences for families and individuals, and it is time to take action to decrease personal debt on a large scale immediately.
Background on increasing debt in America
Over time it has become much easier to find yourself in debt in America. Due to the increasing availability of credit cards, short-term loans, and other lines of credit, many more people are in debt now in America than ever before.
Many people think that others fall into debt because they spend beyond their means. However, research has shown that it is not simply a case of people overspending on their lifestyles. There are many different causes which go into the trend of increasing debt, including:
Rise in housing costs
Rise in general costs of living
Difference between typical wages and costs of living
Some important areas in which debt is increasing include auto loans, student loans, credit card bills, hospital bills, and many other types of loans. The combination of all of these different factors has caused Americans to go into much more debt than ever before.
So how much debt are we really dealing with here?
If an American household has credit card debt, the average balance on the total of the family's accounts is over $16,000.
The average household with debt likely owes over $130,000 in total debt, including student loans, credit cards, and mortgages. A household with revolving credit card debt typically has a balance of almost $7000.
It is shocking, but 38% of all households in the United States are carrying a balance of credit card debt, and even more are carrying some other form of debt such as student loans or mortgage or auto payments.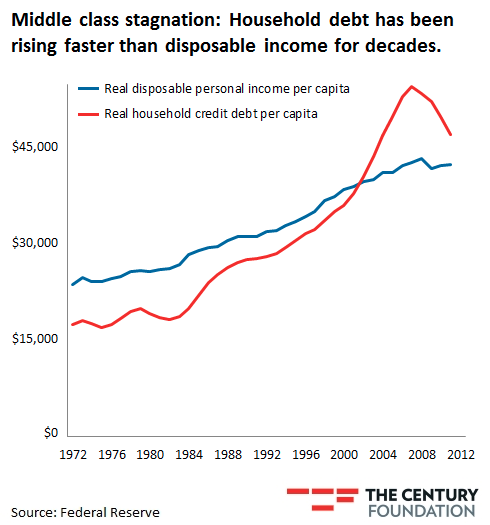 Some people believe that the increasing debt is due to the rise in cost of living and stagnating wages. However, this is not entirely true. The more pressing problem is that cost of living is increasing more than ever before, and even though average income may be increasing slightly in the last decade, the costs of living are greatly outpacing increasing wages.
For 13 entire years, the cost of living has been greater than income growth.
Surprisingly, the median household income has increased by almost 30% in the past decade, but the increases and cost-of-living are outweighing that because they have also increased by about 30% during the same amount of time. You may not think that this is a major problem because income is increasing the same amount as cost of living. However, the problem is really that medical bills have been increasing significantly by over 50%, and the cost of eating has also increased more than the general cost of living has increased.
The real reason why so many people are in credit card debt is because they are using credit cards to help finance their way out of difficult times when they are not making enough money to make typical ends meet.
The increased cost of living has caused more and more people each year to turn to credit cards in order to cover their basic costs of life like medical procedures or other routine costs.
The cost of education is increasing dramatically. More and more people are graduating with large amounts of student loans and are unable to make consistent payments on them. Rising costs in other areas combined with student loan debt create a combination of negative factors which can lead to serious debt.

Costs of credit card debt
One of the biggest issues related to credit card debt is the increasing amount of interest which households must pay in order to maintain the debt, much less pay it off.
The average household spend over $1,200 every year paying interest on their debt.
Because this interest is so expensive, it makes it harder for people to pay off their debt. When you make a payment on your credit card or other debt, much of the cost of the payment goes towards paying off the interest, and not paying off the actual principal on your loan.
So you're paying off your debt slower, meaning more interest accumulates over that time. The credit card companies profit from keeping people in debt as long as possible.
That makes it a difficult situation to escape if your income is staying the same but your debt (interest included) is growing.
The best possible thing to do is to plan out a careful budget for all of your costs. This lets you see how much you can afford to spend and how much you can work on paying off your debt. It is easier to see and plan things in a visual format than just simply scrambling to make ends meet at the end of every month. This leads to missed payments and increased debt.
People from all walks of life are ending up with household debt. This has lead to an emphasis on helping people get out of debt as quickly as possible and move on with their lives.
You may be wondering what steps you can take to reduce your house debt or even to prevent it from happening in the first place.
Getting out of debt
To get out of debt and stay out of debt, you need to plan out your financial life and then continue to follow through with that plan. You'll need to lay out your income and debts. Make sure you think about payments in advance of when they are actually due. Especially if you're carrying many different types of debt.
It is really useful to lay out a list of all your different accounts and lenders with the total amount left on the account and how much you owe in interest over time.
This will encourage you to pay off the debt sooner.
Interest is one of the major costs associated with debt. So lowering your interest rates on your credit card can be very useful and enable you to get out of debt even quicker than you may think you're able.
You can consolidate your student loans into one loan using the government's debt consolidation system for students. This will make it easier to keep track of your payment dates and your interest rates. If you have a credit card, you can call the credit card company and ask to reduce your interest rates or your monthly payments. This will work out if you have a good history of making timely payments. If not, you may not have as much luck with trying to reduce your rates.
Planning is essential
In order to get out of debt, you also need to be strategic with figuring out the order in which you'll pay off your accounts.
 It is always better if you can to pay off the account or debt with the highest interest rate first.
This saves you money in the long run, because the less interest you are paying in total throughout your entire debt recovery, the easier it will be to pay off all of your accounts. If you can avoid it, don't draw out the process of repayment. This makes it much more difficult to get out of debt because you are increasing the total amount of interest you pay in the long run.
You should also focus on making a long-term plan, not just figuring out how to pay off the debt you currently owe immediately. If you pay off your debts but continue to be financially irresponsible, you'll quickly fall back into debt.
It is very important to make sure that your budget is sustainable and can be continued long into the future.
Even though it is clear that debt is often caused by trying to cover basic costs of living, there are some lifestyle changes you can make to help reduce and avoid debt.
First of all, groceries, food, and eating in general is one of the biggest sources of debt for Americans. After all, everyone needs to eat. One of the easiest things you can do to reduce your debt is simply to stop eating out so often. Usually a meal out costs about $10 per person at a minimum and can get much more expensive if you go to a fancier restaurant or if you have a large family. It takes time and effort to cook, but it is certainly worth it considering how much money you can save.
You can also save a lot of money when you're at the grocery store by simply paying more attention to what you're doing. Compile a grocery list throughout the week and only go grocery shopping once a week for these items. If you enter the store with a list, you're more likely to get what you need and not simply things that you randomly see and think you may need. This also reduces the need for multiple trips to the grocery store, that's saving you gas money.
Moving on
Debt can truly ruin lives, but it does not always have to be that way.
The average household debt is rising due to the cost of living, but planning ahead can really make or break your success in getting out of debt. You should make active choices that will help your situation. That means budgeting well, and hopefully having an emergency fund to help yourself out in times of trouble without racking up credit card debt. With these steps, you can be on your way to a healthy debt-free life.